Highbrow Vapor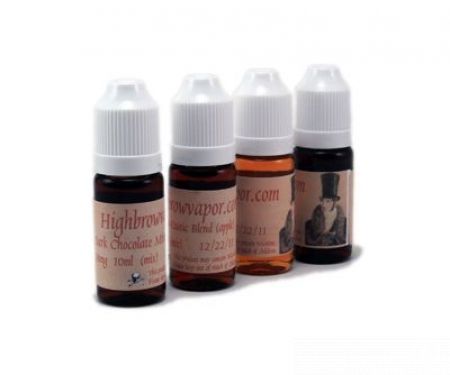 Highbrow Vapor is not your typical e-liquid brand and you can see that the first time you visit their webpage. Just like a winery for electronic cigarette enthusiasts, the page has a certain appeal and you know from the start that you're going to buy some high quality stuff from here. It is a family owned and operated business in the United States who makes their e-liquids from the highest quality ingredients and take great pride in the authenticity of its flavors. Their ejuice is produced in medically clean environments, the VG and PG used are 100% USP Food grade and kosher rated while the nicotine is 99.9% pure and of pharmaceutical grade.
Highbrow Vapor has 45 distinct e-liquids in their online catalogue and they come in four different categories: Fruit, Dessert, Tobacco, and Drink flavors. Each of these is carefully crafted from natural ingredients using secret, safely guarded formulas to achieve mind blowing aromas and unforgettable taste. Their tobacco variations include: Cigar, Clove, Exotic Blend, French Pipe, Menthol, RY4, and tabac de Perique. The dessert favors are: Belgian Waffle, Caramel, Caramel Cake, Chocolate, Cinnamon, Crème Brulee, Cheesecake torte, Dark chocolate, Dark chocolate mint, Eggnog, Hazelnut cream, Heavenly Macaroon, Chocolate Cake, Tiramisu, Vanilla bean decadence and Vanilla Bourbon bean. While Amaretto amore, Buttered Rum and-then-some, Cappuccino Diablo and Chai tea, Apricot, Coconut and Grandpa Dave's pomegranate are some of the drink/fruit flavors that vapers love so much.
All of these e-liquids come in two sizes: the 10ml and the 30ml container and there are six different nicotine strengths to choose from. You can also choose the PG/VG ratio of your mixture from 100% PG, 100% VG, and 70PG/30VG. Keep in mind that as a general rule 100% PG tends to have less vapor, more throat hit, and more flavor. 100% VG tends to have more vapor, less throat hit, and less flavor. VG is thicker than PG which can under certain circumstances degrade your atomizer or cartomizer at a quicker rate.
Another thing that is different about Highbrow Vapor is that it encourages the creativity of their customers, thus it has a special option on the checkout page where users can write stuff like "Add double flavoring", "Not too sweet", "Add a bit of hazelnut", "Extra throat hit" therefore having the freedom to customize any e-liquid to own their personal taste.
As you have probably guessed, Highbrow Vapor is specialized on sweet flavors and some of the most appreciated are the Cheesecake Torte and the Hazelnut Cream. Cheesecake Torte is distinctively rich aroma, sweet and filled with cream cheese flavor notes. A subtle, fresh and sweet inhale awaits with a pronounced cream cheese exhale that will leave you wanting more. It offers great vapor production and a mild throat hit (we tested the 70PG/30VG version). Overall it's an impressive sweet, creamy taste that will linger on your taste buds while you feel like you're in paradise.
Hazelnut Cream on the other hand is a real classic and Highbrow Vapor has made the most of it by adding a bit of cream to the combination. The end result is a very rich but subtle sweet, nutty flavor that will put a smile on your face.
RELATED REVIEWS: