Innokin iTaste MVP 2.0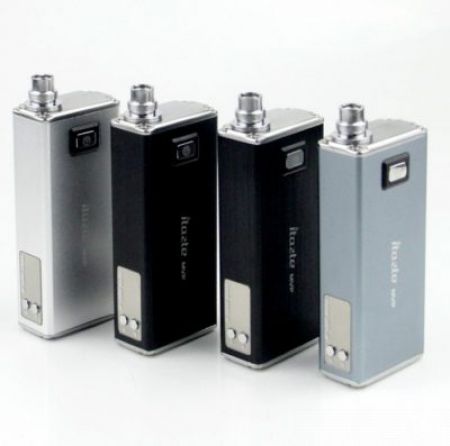 We've had this device for quite some time and after testing it thoroughly for a few weeks, we decided to write a review. The iTaste MVP 2.0 is box mod that's is virtually identical to its predecessor considering its size and the layout of the button and LED display, although the button on the new version protrudes a bit more from the body, and is a bit more resistant when pressed.
It is one of the first multiple purpose e-cigarettes, featuring a micro USB to USB cable through which it can act as a portable power source for your other electronic products like cell phones, tablets or gaming consoles. The reason behind this is the massive, built in 2600mAh polymer Li-Ion rechargeable battery that, even though is not swappable, features a pass-through function allowing you to continue vaping while connecting the device to the power supply for a recharge.
It comes packed in a good quality transparent plastic box and inside you will find, besides the MVP V 2.0, two iClear 16 Clearomizers, a multiple connection USB cable, and an instructions manual. The first thing you'll notice about this mod is the quality of materials and the overall robust and durable aluminum finish. It has a fair amount of weight to it, it's designed with style and it's such a pleasure to hold in your hand.
On the bottom of the MVP V2.0 you will notice the two micro USB and regular USB ports and a switch to turn on or off the output charge feature. On the top you'll see the popular 510 threading that allows compatibility with most clearomizers or tanks on the market today that's masked behind a stylish beauty ring.
Two of the biggest improvements over its predecessor is that the MVP V2.0 can now read the resistance of the atomizers you use and also the people at Innokin decided to add a variable wattage option. Therefore, this mod is now both variable voltage and variable wattage, ranging from 3.3 to 5.0 volts in .1 increments and from 6.0 to 11.0 watts in .5 increments.
To turn it on you simply need to press on the power button three times in a row and you'll notice it blinking green, yellow or red, depending on the remaining battery charge. To check out the ohms of your atty you simply need to press the two (P) and (U) buttons together. Going from the regular plus/minus buttons to the new P/U might be tricky for some, as you can't chance any setting downwards you simply need to press the button continuously to cycle through all the numbers. To get from 8 watts to 6.5 watts you need to go all the way to 11 and start from 6 again. This is a bit inconvenient but most people after having found their sweet spot don't usually change the settings unless they swap the atomizer or e-liquid.
However, once you mount your atomizer on and start puffing on the MVP you'll quickly forget about the minor inconvenience because this baby vapes like a monster. At around 10 to 11 watts is delivers massive vapor and the throat is phenomenal. We have to say we are truly impressed and now we understand why this device became so popular among vapers. It really delivers everything it promises and even more. It's a great looking box mod that represents an ideal pick for any beginner or intermediate e-puffer.
RELATED REVIEWS: