iTaste VTR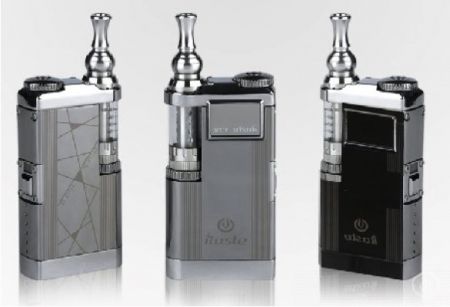 Famous for their unique sense of style in the design of AVPs, the people at Innokin, known for one of the most iconic box mods out there (the iTaste MVP) developed a brand new model that's out there to impress.
Even though shaped quite similarly, the VTR does not feature an internal battery cell like the MVP, instead uses a standard 18650 battery which can be removed or replaced. It is also a bit larger than the MVP, measuring 107mm tall, 54mm wide, and 22mm deep. It is also a lot heavier than its predecessor, feeling like a lead brick in comparison.
A unique aspect of this AVP is that the tank loads onto a side slot rather than resting on top of the unit like in the case of other devices. This gives everything a more compact feel. However, not all tanks will be able to fit in this side slot, therefore Innokin included an extension tube that will slide into it and then you will be able to attach your tank. The convenience is that it allows you to use any 510 or cone threaded atomizer, but it does add to the overall weight.
When it comes to functionality, the iTaste VTR is a real beast and it will put a smile on every vw enthusiast from the first moment. It fires up with great consistency, and it is able to do it for days in row. Combined with an 18650 battery you can be sure that you will have more than enough autonomy to enjoy your vaping experience. Adjusting voltage or wattage of the Innokin iTaste VTR is done using a wheel at the top of the device. When small button in the center of this wheel is pressed, the resistance of the attached atomizer is displayed on the impressive LED screen on the side of the device.
Here are some of the iTaste VTR's main features: it is capable of variable voltage between 3 and 6 volts in steps of 0.1v; t is capable of variable wattage from 5 to 15w; the voltage / wattage is changed via a rotating dial; built in safety features; RMS output for constant vapor production; built in ohm meter; back lit display; vent holes in the body; popular 510 connection; doesn't reset after swapping batteries; generous display;
The iTaste VTR is quite an impressive device and it is one of the most loved box mods out there. All of the features add up to an impeccable vaping experience and a very unique look. It's definitely the type of mod that's going to get you noticed in a crowd.
Keep in mind that this device does not come with a battery or charger but there are plenty of those available at each vape shop.
RELATED REVIEWS: