The Kamry K100 mod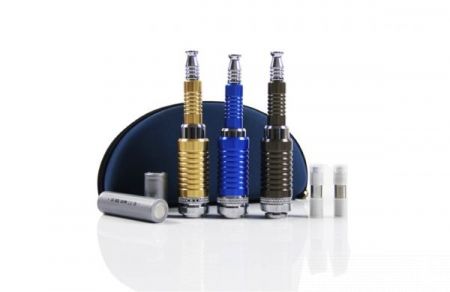 Fashioned after the look of the Empire PV Mod from Empire Mods, the Kamry K100 has posed to be one of the most used and affordable mechanical mods on the market. But as opposed to the Empire mod, the K100 features a 510 connector on the top cap, but there are no air channels cut in for additional airflow. You might also want to drill another hole for extra airflow and a smoother draw.
The bottom mounted switch takes a lot more room than on the Empire PV Mod, making the mod somehow longer and the original brass parts are now designed from stainless steel. Being a telescopic mod it allows for various battery configurations like: 18350, 18350+kick, 18490/18500, 18490/18500 + kick and 18650.
The vaping button is comfortable to use even though it has enough spring tension not to enable the device when set down, even with a fairly heavy tank. The locking ring is handy but counter intuitive as you always tend to rotate it in the other way. It is compatible with most 510 threaded atomizers, cartomizers, and Vision Ego clearomizers.
The telescopic tube should be fastened on just enough so that when the button is depressed, the atomizer on the device activates. The over-fastening of the telescopic tube will push down the button spring and cause the device to stay "activated". This will cause the battery to overheat.
The matching drip sleeve and drip tip give the Kamry K100 a nice, stylish look, though the sleeve will not be usable with anything bigger than a standard size atomizer or cartomizer.
When it comes to looks and build quality, this mod is very impressive and worth every penny. It has a fair amount of weight and the pieces thread together very well.
It performs impressively and has a very low voltage drop even when with the use of stainless steel contacts. The feel is really solid and the press on the button is firm. Venting is at the bottom which helps with getting a smooth vape. The Kamry K100 works great with a dual coil set up.
While it does not come in all the available colors of the Empire mod, the K100 is available in a variety of anodized colors that are really eye-candy for most vapers. It's the kind of mod that will make out stand out of the crowd.
The full kit includes: the mod; a nice drip tip; two atomizers; two batteries (18530 and 18650); an intelligent charger; carrying case; fee e-liquid bottle;
RELATED REVIEWS: