Kanger KBox Mod Review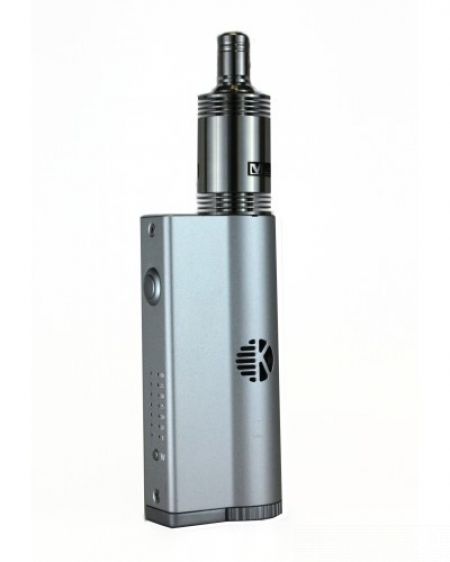 There are a lot of compact box mods reaching the market these days, each one competing with the other in terms of features, versatility and size. Some simple yet innovative ideas can sometimes be the difference between success and failure so engineers are busy at work and designers are trying to come up with the next best seller. The box mod we are going to review today is the first one from Kanger, and it's definitely made to complement the original Subtank.
The Kanger KBox Mod comes in a very stylish and high quality red cardboard box (the same as in the case of the Subtank) and inside you will only find the mod, the manual and some instructions on how to check if your device is authentic or a knock-off. The first thing you will notice about this particular model is the original shape and the fact that it lacks some of the characteristics of other similar box mods. The body is made from aluminum with a nice sand-blasted finish and everything feels solid and great. You will not have to worry about this mod being a fingerprint magnet but you will need to pay close attention as the surface tends to scratch quite easily.
On the top you will notice the 510 connection surrounded by four channels to provide the necessary airflow for some tanks. The connection has a spring loaded positive pin that is also gold plated, so in terms of conductivity and flush-ness you are more than covered. On the side you will notice the firing button, which has a nice round shape and contour and it's very easy to find and press. You also have an additional smaller button and the lovely bottom cap that looks amazing. It's very easy to unscrew and you will notice that it comes with a gold plated spring.
The Kanger KBox Mod is powered by a single 18650 battery that you cannot recharge while it's inside the device. There is a lovely vent hole in the shape of the Kangertech logo and that pretty much covers all the exterior details about this mod. There is no OLED or LCD display and also you won't find any sort of adjustment buttons. The diameter of the rounded part of the mod is 25mm, which is exactly as the first Subtank and once you put it on you'll notice how nice it looks when flush with the whole device. The Mini and the Nano also look great on this mod (we have the silver version – but we heard that there is a black version out there too).
So in order to power on the Kanger KBox Mod you simply need to take of the bottom cap, insert your 18650 battery – that has to be of minimum 20A – then carefully screw the cap back on. After that you simply need to press the firing button five times and notice the indicator lights blinking. Just like in the case of some older variable wattage mods from Innokin that had dials with selected values for power, this box mod presents you with the option of choosing between seven different settings. You can go from 8 – 13 – 20 – 25 – 30 – 35 to the maximum of 40Watts, all in a press of a button. The other column of LED indicators is the battery level and after using the mod you'll notice that only a few of them will light up, according to the remaining charge.
This means that the Kanger KBox Mod is very easy to operate and vape on and this makes it extremely efficient for a wide range of vapers that don't like to be bothered by adjusting various settings and mixing up voltages and wattages. It's perfect for all adult ages regardless of the level of experience with personal vaporizers. It can work with tanks or atomizers that go as low as 0.4 Ohms and it comes with various safety features that include over current protection and short circuit protection.
Vape wise this produces excellent clouds and the flavor is just perfect. You don't have to necessarily pair it with one of the Subtanks but we surely recommend it. You'll be both delighted and amazed and you are certainly going to find a sweet spot out of the seven predefined wattage settings. Overall, this is a great product that offers incredible quality and experience for its price range.
RELATED REVIEWS: