Mt Baker Vapor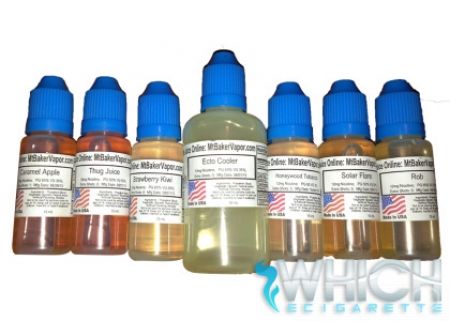 Mt Baker Vapor is a brand that is 100% USA made and packaged, so you know from the start you're getting high quality flavors using only the best ingredients. All of the mixtures are diacetyl free and it will be very hard to choose only one because they have a lot to offer. It is also one of the few brands that have an online guide available on their website for e-liquids that are not safe to use in plastic clearomizers (you've probably heard about some juices that produce cracks or dissolve the tanks).
Adding to that, it's the first brand we know to have a 'shade rating' diagram that gives you an accurate idea about to color of the e-liquid you're about to purchase. The hue of each liquid comes from its flavoring base, and usually browner colored liquids leave a resin behind (solid components in the juice that can't be vaporized) at a faster pace than more transparent e-liquids, having a dramatic effect on the life of your atty. Many times, the dimmer the juice, the faster the process.
Their wide variety of 295 flavors is divided in the following categories: Candy, Nut and Spice, Specialty flavors, Menthol, Sweet, Beverage, Fruit, Tobacco, and Mint. Each of them are sold in bottles of 5, 30, 50 and 236ml with nicotine levels of 0.0, 0.6, 1.2 , 1.8 , 2.4 and 3.6 % and variable PG/VG proportions of 65/35, 20/80 50/50, 80/20, 100/0 and 0/100. You also have the possibility of adding extra 'flavoring shots' to any of the available e-liquids. Both the 30 and the 15ml packs are semi-transparent, with child proof caps. All the bottles come with a dropper.
The taste of their e-liquids is very good and they are clearly specialized in fruit flavors. The vapor production was rich and delightful along with some mild throat hit. We used e-liquids with the VG/PG ratio of 80/20.
Out of all the flavors, there is one that has built a lot of notoriety in the last years: Hawk Sauce. It is a slightly sour berry, with hints of menthol and fruit, mixed with inspirations drawn from the Pacific Northwest. The color of the liquid is a clear, less saturated Yellow and it has the consistency of a light household oil. The flavor is very similar to that of tropical fruit juices we all enjoyed drinking. This mixture has over 700 user reviews and everybody is thrilled with the taste and vapor production. Also the throat hit is phenomenal and we must agree that's a real masterpiece when it comes to minty fruit flavors.
Another very well crafted flavor is their signature 'Thug Juice', a combination of grape, watermelon, a bit of sweetener and some menthol for freshness. While it's a 'love it or hate it' kind of flavor, we found it absolutely delicious and refreshing.
RELATED REVIEWS: