Revolver Ecigs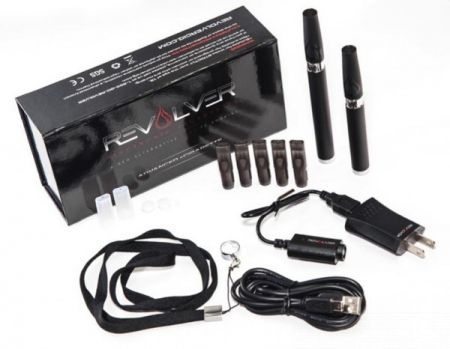 Revolver electronic cigarettes is a relatively new brand on the market but it has one of the best ecig selections currently available. They are dedicated in achieving ultimate customer satisfaction and whether you're a beginner or a veteran vaper, you will definitely find a product to suit your needs on their website. Their Talon Tank system is basically a variation of the popular eGo-T model and if you are not such a big cig-a-like fan then this is perhaps the best choice for you.
Variety
Revolver is the kind of brand that made a clear purpose on satisfying every vaper's needs since they have bit of everything in their offer. From cig-a-likes and disposables to advanced personal vaporizers with variable voltage and variable wattage, they have it all. They also sell their eliquid separately and you'll be amazed by the number of flavors in their offer. The ejuice comes in 10 or 30ml bottles and there are 4 nicotine strengths to choose from.
Design and Packaging
The Talon Tank comes in a glossy magnetic top cardboard box with the brand name and logo clearly standing out. Don't worry if you might seem overwhelmed by the contents because everything connects pretty easily once you take a look in the manual. The kit looks nice, but Revolver clearly doesn't put as much emphasis on presentation as other ecig brands do, which is quite understandable since this tank system doesn't need any sugar coating.
The metallic finish on the parts is a nice touch and the logos are embossed nicely onto the components giving the kit a classy look. The buttons on the batteries are sturdy and nicely built.
Starter Kit contents, prices and warranty
The Talon Tank Kit contains: two batteries (650 & 1100 mAh); 2 tanks; 5 blanks; USB charger; wall adapter and cable; lanyard; two covers; a bottle of free e-juice;
The Talon Tank Kit can be purchased for $69.99 and comes with 30 day money back guarantee and a 1 year limited commercial warranty. You can read about terms and conditions on their website.
Battery Life
The Talon comes with two different batteries. It has a 3.7v 650mAh battery that doubles as a USB pass-through. Simply unscrew the cap at the tip and plug in. When not in use, screw back on the cap and the elegant look of portability is restored. If you are searching for an ecig that can last a whole day, you can go for the 1000 mAh pass through battery. Pairing it with the big capacity reservoirs, the Tank system provides with a lot of vaping autonomy (about one day for a heavy smoker and two to three days for a regular user).
Both batteries are manual so you won't have to worry about e-liquid spills while they also have a shutoff mechanism when you press the button for five times during 2seconds that prevents accidental firing he battery when you put it in your pocket or purse.
When it comes to vapor production, this kit is one of the best on the market and if you are a big fan of huge, thick clouds then prepare to be amazed. On the other hand, the throat hit is kind of weak as compared to other brands but it improves after getting used to the device.
Flavors
In terms of variety, Revolver has very little competition on the market today. With over 100 different flavors available it has an ejuice for every taste. Their classic and USA eliquids include: Arctic Blast, Beverages, Fruit, Mints & Menthols, Sweets & Treats, Tobaccos and VG flavors.
All their eLiquids come in 4 levels of nicotine (0%, 0.8%, 1.6%, and 2.4%).
Conclusion
The Talon Tank system may seem a bit expensive but it's worth every penny. Whether you're a beginner or if you've had previous experience with electronic cigarettes and feel the need to explore other options, the Revolver Talon is perfect. It produces a lot of vapor and the battery life is just incredible so if you consider this to be the perfect device for you, then don't think about it too much because you won't regret your purchase.
RELATED REVIEWS: