Vapor Couture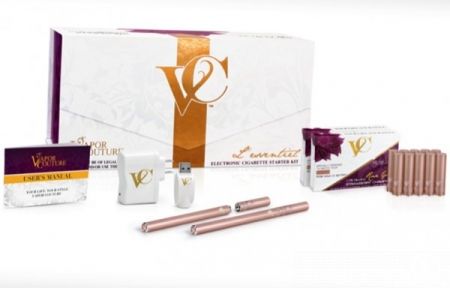 Vapor Couture is the sister company of the famous V2Cigs, and it clearly not a brand for everyone. These devices have been crafted to look very sophisticated and fashionable and they address the feminine audience. At Vapor Couture, users can find highly attractive looking ecigs that boast sleek and stylish designs. This is achieved by introducing elegantly designed batteries with jewel tips and feminine accessories to go with the e-cigarette of choice.
Variety
Just like V2Cigs, Vapor Couture is specialized on selling cig-a-likes, so don't expect a wide variety of devices and separately sold e-liquid. There are five options of starter kits to choose from, and there are a lot of color customizations and accessories to go with that. The cartomizers come in six available flavors and the brand also sells some chic disposable electronic cigarettes. It is the only brand on the market so far that allows the user to pick the color of the cartomizers. They come in four nicotine levels.
Design and Packaging
Since Vapor Couture addresses the ladies, the main difference to set them aside from other brands has to be appearance. Even though they are being powered by the same technology as their successful sisters, the V2Cigs, these classy devices present a lot more attention to detail and a fancier palette of colors to choose from.
Packaging comes like a statement. The box is long thin with foam inserts, gold and purple in color and very luxurious-looking. It resembles a fancy woman's purse. Inside you will find the batteries that are rather thinner than most other brands and that's easy to understand because many women prefer light weight.
Starter Kit contents, prices and warranty
The L'Essentiel Kit contains: 2 stylish batteries; 2 x 5 packs of cartomizers (6 flavors and 4 nicotine levels); 1 charger; 1 manual;
The L'essentiel Kit is available for $64.95 and it comes with a 30 day money back guarantee. You also have a limited lifetime warranty on all of the products. You can read about terms and conditions on their website.
Battery Life
The battery is quite small in nature therefore making it extremely light, thin and elegant. It is 86mm long, has a rating of 190mAh and it runs at 4.2volts. While not as powerful as the typical KR 808 D-1 battery found in most cig-a-like starter kits it does perform quite well and gets the job done. They will allow a little over 3 hours of constant vaping and when the battery requires charging, the crystal tip on the end will begin to blink.
These batteries are fully automatic and they are very responsive, borrowing most of the qualities from their V2Cigs counterparts. They also need around an hour to fully recharge so this is a great advantage.
Vapor production is very good and you get a mild throat hit also. While not the best on the market, they are certainly not the worse either.
Flavors
The cartridges come in six different flavors and there are four nicotine levels to choose from (0%, 0.6%, 1.2% and 1.8%). Also you can pick your favorite cartomizer color to match the one of your battery. Rodeo Drive, Bombshell, Strawberry Champagne, Fresh Mint, Passion Fruit, and Arctic mint are the aromas that will get you addicted to this brand.
Conclusion
It is pretty clear that Vapor Couture has something very unique for the e-cigarette market. It is a brand exclusively built for women, especially those who casually smoke and do not want to give up on style. It offers the perfect balance between style and performance and might just be the perfect pick for a present.
RELATED REVIEWS: