Virgin Vapor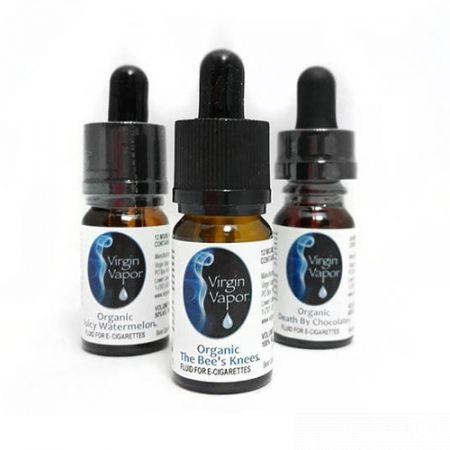 Virgin Vapor is a small US brand which crafts high quality, fully organic electronic cigarette liquid. They have a line of USDA-certified organically flavored ejuices in a range of well-defined flavors. All the ingredients and materials used contain no artificial flavors, sweeteners or colorings. And instead of using PG, the use Vegetable Glycerin which is both organic certified and UPS Pharmaceutical grade (they also offer VG/PG mixes for customers who prefer a propylene glycol base). Everything inside the e-liquid mixture is from the USA, including the nicotine, so not only you're getting the full-flavored experience from their renowned eliquids, but also you can rest assured that there are no artificial additives in each puff of vapor you enjoy.
Virgin Vapor boasts two exclusive eliquid lines: The 'Absolute Vapor Line' and The 'Virgin Vapor Line'. The 'Virgin Vapor' is made only from organic ingredients, while the 'Absolute Vapor Line' contains no traces of alcohol. Both the lines have a wide variety of flavors to choose from. Another important fact is that all the e-liquids come in glass bottles.
Fresh Thai Mango, Dark Roast Turkish Coffee, Best Damn Tobacco, Coconut Breeze, Swiss Almond, Strawberry Granita, Raspberry Soufflé, Blue Violet, Cherry On Top, White Cherry Crush, Singing the Blues, Fresh Squeeze, Death by Chocolate, Georgia Gold, Bed of Roses, Celestial Honeydew, Coffee Monkey, Dark Side of the Moon, Forbidden Fig, French Vanilla Kiss, Snake Bite, Thrilla in Vanilla, Tropical Storm, Vanilla Latte, and White Chocolate are just some of the delightful flavors that this brand has to offer.
They are grouped in many categories like 'Breakfast', 'Chocolate', 'Citrus', 'Dessert' or 'Nutty' and they come in six nicotine levels and two base options (100% VG or 50/50 PG/VG). You also have the option of requesting a custom flavor that can be anything that crosses your mind like 'chocolate and vanilla ice cream with pistachio topping' and if the mixture is possible with the available ingredients, make sure you won't be disappointed of the result.
With so many available flavors, it's hard to pick the best but there's always something that stands out from the crowd. 'Organic Bed of Roses' is something you never imagined puffing out of an ecigarette but it is definitely the site's revelation. It packs the heart of roses in a robust and delightful vape. The result is a divine flavor with no nasty aftertastes. It is extracted only from organic or wild blossoms and there's no alcohol involved in the manufacturing process. It's a purely delicious aroma and it can't be compared with anything you've tasted so far. It won the 2013 'Spinfuel Magazine' E-liquid Choice Award. As you might imagine, vapor production and throat hit are incredible with the 50/50 PG/VG base.
Another incredible flavor is their 'Organic Death by Chocolate' which will hit the stop with your sweet tooth.
RELATED REVIEWS: