Youde UDT-14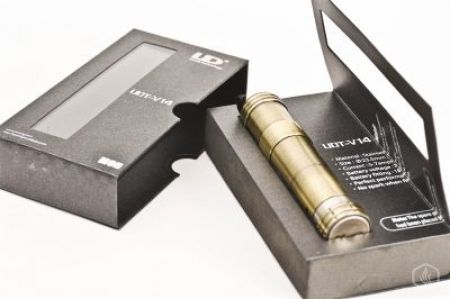 Carefully crafted out of high quality brass and brushed bronze, the UDT – V14 is one sweet looking mechanical mod that really stands out among a sea of look a likes. It has a very unique appearance and it's definitely the kind of mod that's going to make you stand out of the crowd regardless of the place you're puffing on it. In any case, it's a "love it or hate it" kind of device considering its looks but at the same time a solid performer that delivers incredible value considering the price.
The UDT-14 comes packed in a UD style black cardboard box (like the other mods and tanks) with a transparent plastic foil on top of it making it clearly visible. Inside you will find the mod, which is purely mechanical, and a small bag of spares. The first thing you'll notice about it it's the high quality scratch proof finish and the sturdiness this mod boasts. You will also spot the venting hole on the body that prevents overheating of the battery. We've always been huge fans of venting and we love a mod that puts safety first.
The UDT-14 is made of four individual parts: a bottom cap with a silver plated copper pin, the body, the extension tube and the top cap with an adjustable center pin. It uses the popular 510 connection and it also features three nice air channels at the top to ensure good airflow with any tank. It has a diameter of 23.5mm and a total height of almost 110mm. Due to the construction materials it feels quite solid and it has a reasonable amount of weight to it, but at the same time, it feels exceptionally well balanced.
The mod itself is designed to work with small 18350 batteries but if you want the extra autonomy then you can screw on the extension tube and vape on it with your regular 18650. The firing button is located at the bottom and has a nice scorpion logo engraved on it. It's flush with the body and therefore you should be able to sit this mod upright without having to worry about it firing by accident. You also get a nice locking ring to completely disable the button for when you're transporting the UDT-14 inside your pocket or bag.
In terms of performance, it all depends on the battery and atomizer but we found very little voltage drops and a consistent vapor production with our IGO-W3. It really outperforms its price tag and it's the kind of mod that's going to make you fall in love. Overall, we definitely recommend it to anyone looking for a decent mechanical mod that looks and feels impressive.
RELATED REVIEWS: